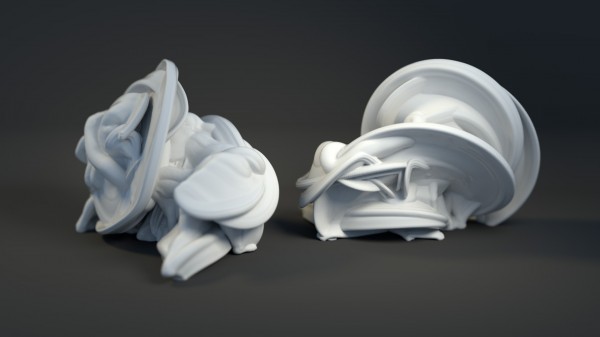 Rendering by Vladimir Jankijevic
The Project
Project Bodycloud is concerned with the materialization of human movements into a sculpture. About ten years ago, I visited Brazil with my Capoeira club. The way, how incredibly elegant Mestre Corisco moved through space impressed me deeply. Since that moment, I was dreaming of doing a sculpture from movement.
The goal is to produce the sculpture in lifesize as a positive and negative. The latter meaning a solid block with the movement carved into the material. So the visitor can crawl into the space and explore it with the body.
Statement
Human movement space is defined as the space a person appropriates by means of his or her movement, a space that is constantly expanded as the person moves. I am interested in movement spaces because it reflects the personal usage of space. Despite its habitual and daily character, this process can be cultivated and developed according to a person's talent and physical ability. Along these lines, the personal appropriation and design of space starts with one's body. In order to visualize this constitution, I choose the process of materialization into a sculpture. Thereby, I will try to the render this essentially ephemeral movement space tangible.
Text
Some thoughts and theory about the topic with plenty of pictures to look at in PDF format:
Bodycloud_E.pdf (English)
Bodycloud_D.pdf (German)
Bodycloud_P.pdf (Portuguese)
The Project in Short

See the process ->